Office Building
Outokummun Seudun Teollisuuskylä Oy
Pioneering seamless EV charging integration with the first 11kW charger installation, leveraging existing heating pole infrastructure.

This project marks a significant milestone in introducing innovative, scalable, and future-proof EV charging solutions to the locale.
First Fast 11kW Charger in Outokumpu City

Innovative Infrastructure Integration

Upcoming: Automatic Plug & Charge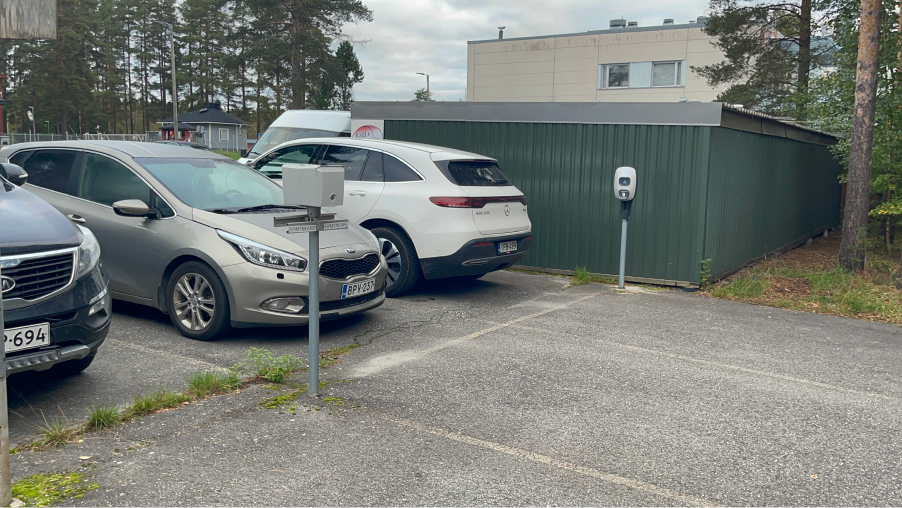 We are thrilled to present the successful installation of a fast 11kW charger at Outokum mun Seudun Teollisuuskylä Oy in the picturesque city of Outokumpu. This milestone marks the introduction of Outokumpu City to its very first fast Type-2 charger, transforming the way residents and visitors charge their electric vehicles.
Bringing Cutting-Edge EV Charging to Outokumpu City
Our installation stands out due to our innovative approach. We've seamlessly integrated the charger into the existing heating pole infrastructure. By utilizing the current setup and preserving other poles, we've bypassed the need for expensive and lengthy renovations, facilitating an effortless shift to EV charging. As our customers' charging needs grow and they seek upgrades, the power line can be renovated without any obstacles. This approach allows our customers to access EV charging now at a fraction of the cost compared to other providers.
But that's not all – this installation paves the way for a comprehensive EV charging infrastructure in the future.
KotiCharge's Future-Proof Solutions
With KotiCharge's advanced 3-stage installation process, we ensure an easy and stress-free charging experience. Every aspect, from charger operation to invoicing, is meticulously managed. Our commitment to customer satisfaction is evident in our offerings. We provide smart services like spot-pricing support, which allows for precise charging expense calculations. Energy consumption is tracked hourly, and with pricing data from Nordpool available a day in advance, users are assured of complete transparency in costs. This approach simplifies the charging process, making it efficient and cost-effective.
Automatic Plug & Charge
A highlight of our service is the upcoming Automatic Plug & Charge feature. Imagine a vehicle plugging in and charging, initiating instantly without any app intervention. This feature, enhanced with camera installation, will be introduced in the coming months, further streamlining the user experience.
Result
After one month of installation, the overwhelming positive feedback from our customers in Outokumpu City stands testament to our commitment to excellence. Our users have expressed immense satisfaction with the ease of use, efficiency, and innovative features of our EV charging solutions. The integration of the charger into the existing infrastructure not only offers convenience but also resonates with our ethos of sustainable development. Many have lauded the transparency in pricing and the forthcoming Automatic Plug & Charge feature, eagerly anticipating its rollout. At KotiCharge, we believe that our success is deeply intertwined with the happiness of our customers, and we continuously strive to elevate their charging experience.